Clear colourful communication
Pathways Development are Clarity4D Accredited Providers of Clarity4D Personality Profiles. Using a secure online questionnaire, users provide answers to a range of varied questions. An assessment is produced for them in the form of a report, showing their personality traits in four quadrants matching the four Clarity colours.
In addition, an extensive text description of what their responses revealed goes into detail of how the user perceives themselves and their preferences for interacting with colleagues and the world.
These results are delivered as part of a course to help users understand and make best use of the report. Crucial to the value of the report, findings are shared with colleagues (if willing) which helps colleagues understand each other and how best to communicate with them.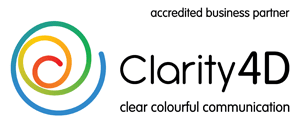 Clarity4D uses four colours to identify your preferred style of communication so you can gain a greater understanding of how you interact with those around you – and how others interact with you. It provides a solid basis for personal development and when used with coaching and personal development, you can gain the maximum potential of colour work. (More details about the basis for Clarity4D can be found here)
You can use Clarity4D for:
organisational cultural change
coaching for both personal development and organisation development
gaining an understanding of how your behaviour can be perceived
how to modify your messages to gain the greatest acceptance in your audience
gaining better team work performance when the team understand team members' colour traits
Team building with Clarity4D Personality Profiles
At Pathways Development we use Clarity4D in coaching and team building. Our coaching clients find the report and colour wheel enlightening and empowering. "That explains a lot" is a common comment when clients see their report. The behaviour preferences are an indication of how you interact and once clients understand their own preferences, they are then able to develop those colours and traits they would like to have more of, or less of too. Our coaching uses the Personality Profile as one element of awakening clients to their potential.
With team building, it generates discussion about communication behaviour and helps smooth future communication as members gain a greater understanding of colleagues' preferences about how they communicate – and how their own preferences affect the rest of the team. We encourage sharing of the results which helps creating a team who value openness and honesty as a cornerstone of an effective team.