We use profiling to enhance self-awareness & increase behavioural options
Clarity 4D
Clarity4D is a cost effective resource for organisations. It will help you understand the people you work with or whom you employ, and they to understand you; it will help you maximise a high level of customer support and sales by having teams who function from knowledge and understanding of themselves and each other.
Clarity 4D uses colours to identify personality characteristics, which are helpful in identifying how to interact with other 'colours'. The colours are arranged in quadrants with a percentage of that colour for that person.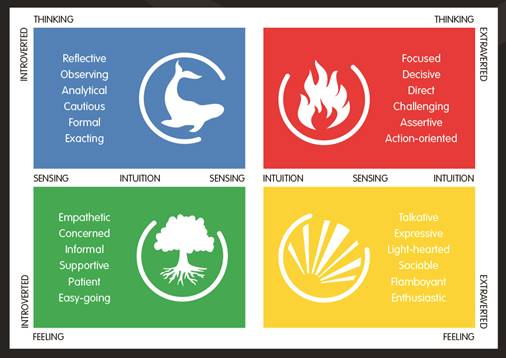 Notice the text descriptions surrounding the colours. The two top colours – blue & red – are both thinking colours but one is introverted and at the other side is extroverted. These are broad groupings as to where people are in their relation to others.
We like Clarity 4D colours as they are a useful tool and provide a simple yet rich basis for understanding self and others.
Find out more on about Clarity 4D profiles and about the foundations of Clarity 4D profiles.